Payment & Security
Your payment information is processed securely. We do not store credit card details nor have access to your credit card information.
Description
Model: HR-K600F
Portable Hair Removal Skin Rejuvenation E-light(IPL+RF) Beauty Machine for reducing wrinkle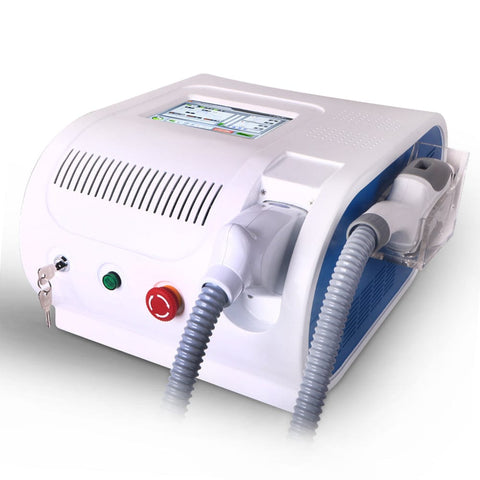 Product Introduction
E-light uses three core technologies for cooling, namely IPL, RF, and skin. It has the advantages of IPL and RF at the same time. On the one hand, the skin selectively absorbs IPL energy, and the skin can also absorb RF energy. On the other hand, RF-surface-touch cooling technology can eliminate the discomfort and complications caused by high temperature. . Therefore, the effect and safety of E-light are better.
Operation Range 
1. Tender your Skin
2. It is good to remove freckles,chloasma.senile plaque,etc.
3. Pigment removal
4. It also good for hair Removal, such as armpit hair,hairline,beard,whiskers,lip hair,body hair, bikini hair or any other unwanted hair.
System Characteristics 
1. The E-light surgical head is mainly composed of three parts: bipolar radiofrequency + low-energy pulsed light energy + epidermal cooling
2. It can improve various skin problems such as wrinkles and telangiectasia, and the clinical effect of surgery has been further improved
3. The multiple functions of the E-light machine are the first choice for the patient: comfortable operation, very professional, obvious effect, quick effect, small side effects, etc.
4. It adapts to a wider range of people, and it is safe for all skin types. There is no need to worry about safety issues. It can also be used for type IV and type V skin surgery.
5. The operation is simple, just adjust the energy of IPL and RF separately to work.
6. Pre-cooling the epidermis, which will cause a temperature difference between the epidermis and the dermis. The energy absorbed by RF can act on the pre-heated target tissues (such as veins, hair follicles, melanin, etc.), and achieve the best radio frequency penetration Effect.
Filters
1)480nm for age spots, sun spots, pigmentation troubles
2)560nm for Skin rejuvenation;
3)640nm for hair removal;