Payment & Security
Your payment information is processed securely. We do not store credit card details nor have access to your credit card information.
Description
Model: SR-SC3040
New V-face Micro-current Face Massager EMS Remote Control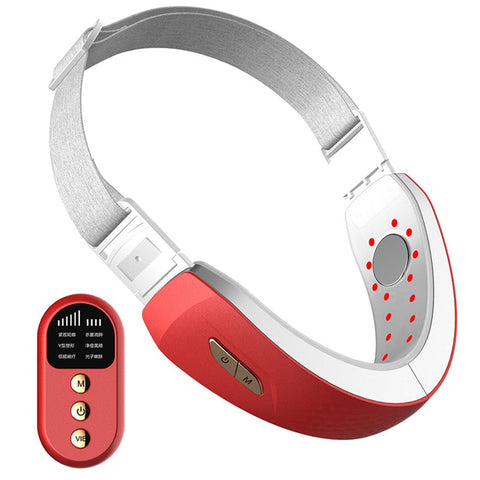 1. Function and characteristic
Are you still confused by the prominent muscles in your face, the uneven size of your face, and the swelling of your face? Have you always wanted the perfect face shape?
V-face is a new favorite in the field of beauty equipment. It can help you quickly and effectively reshape the facial contour, and lift and tighten the skin. Wear without a sense of bondage, throw off the shackles, and have arbitrary convenient use.
Functions:
EMS Micro-currents tighten the skin, Stimulate ATR production, stimulate human subcutaneous tissue through EMS micro-current, improve facial muscle fiber elasticity, activate collagen activity, and tighten skin.
Red light irradiation treatment Skin repair:
Improve the activity of skin cells, promote metabolism, promote blood circulation, enhance skin elasticity, anti-aging, and anti-oxidation.
Blue light irradiation cleans and softens the skin
Clean, sterilize, and protect the skin, strengthen skin absorption and repair, balance skin oil, whiten and lighten spots, soften skin, eliminate wrinkles, and shrink pores.
Vibration lift shaping
Tighten the facial muscles and shape the V-face
Soothe facial muscles, improve the strength of fine muscles, and increase facial elasticity, and overall lift.
2. How to Use
1) Place the device on your face, V-Face beautifier is controlled by a wireless control device or used alone.
2) Long-press the power button for 1 second to start the machine, and long-press the power button for 2 remote controls for 1 second to start the machine
3) Press the "M" key to adjust to the next mode. There are six modes in the Beauty instrument: firming contour, V-shaping face, and low-frequency magnetic therapy. Sterilization and swelling, acne beauty, light skin.
4)It can be adjusted according to the gear strength adjustment key.
5)Store in a cool, dry place.
3. LED Function
1)Red(630nm)
Help increase blood circulation and stimulate skin cells to excrete collagen and speed up metabolism, making your skin firm and shiny in smooth texture.
2)Blue(470nm)
Inhibit acne growth with anti-inflammation and skin repair effect to reduce the risks of leaving scars, also help strengthen skin absorption, smooth wrinkles, and shrink pores for skin rejuvenation effect.
4. Product parameters
Material: ABS
Color: White/Red(Optional)
Charging Voltage: DC 3.7~5.0V
Rated Power: 3.5W
Working Mode: 6 Modes
Intensity Level: Level 1-10
Red Light Wavelength: 630nm
Blue Light Wavelength: 470nm
Heating Temperature: 42℃
Timer: Auto Shutoff After 15 Minutes Operation
Size: As Picture Shown
5. Packing list
1* Main Unit with Fixing Belt
1* Remote Controller
1* USB Cable