Payment & Security
Your payment information is processed securely. We do not store credit card details nor have access to your credit card information.
Description
5mw Led Laser Lipolysis Machine with 14 Pads for Body Slimming
Model: WL-LS1402
Discover the breakthrough in body shaping with our LED Laser technology, using non-surgical and non-invasive laser lipolysis to break down stored triglycerides into free fatty acids, glycerol, and water molecules. The fatty acids are then transported through the lymphatic system, delivering natural and targeted fat reduction anywhere on the body.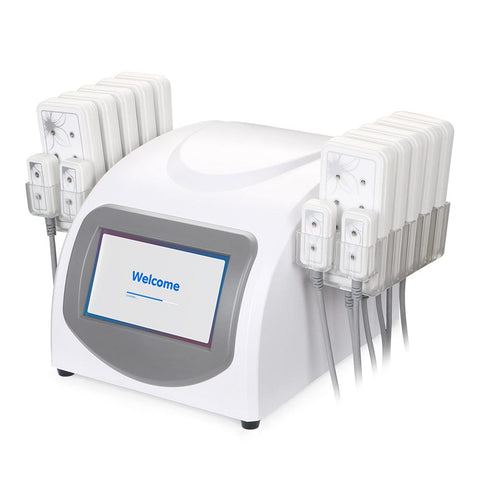 Unlike other body shaping technologies, our LED Laser technology is non-destructive and targets fat reduction with precision, making it ideal for use on any part of the body. The fat cells are not destroyed during treatment, making this a safe and effective solution for patients.
After treatment, exercise helps complete the metabolism of freed fatty acids, leading to the shrinking of fat cells and the body shaping results your patients desire. Choose our LED Laser technology for targeted fat reduction and circumferential reduction.
Technical Parameters
LED Laser, Wavelength: 635nm-650nm
Energy Output: 88 x 5mW = 440mW
Mains Power Output: 100VA
Safety: On-board diagnostics
Classification: Electrical Class 1, Type B applied part
Cooling Requirements: Air-cooled
Electrical Requirements: 240V/5A/50Hz, 110V/5A/60Hz
Mode of Operation: Continuous
Package Including
1 x Power line(We offer 100-240 V , AU/EU/UK/AU plug)
10 x Big paddle with 8 led laser//Each (Total 10 *8*5mw=400mw)
4 x Small paddle with 2 led laser //each (Total 4*2*5mw=40mw)
2 x ABS Holder for led pads