Payment & Security
Your payment information is processed securely. We do not store credit card details nor have access to your credit card information.
Description
Model: OT-Cream
Organic Hot Cream For Anti-Cellulite, Skin Firming, And Body Slimming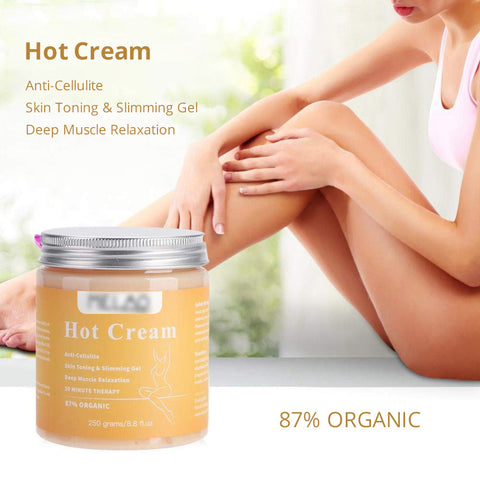 Our 250ml Hot Cream Fat Burner Gel is an invigorating firming formula powered by an effective blend of essential oils. Along with smoothing the appearance of cellulite and slimming your body, massaging it into target areas can help boost blood circulation and even provide temporary relief for deep muscle pain. Perfect for use on your belly, butt, and legs.
Features:
1. HOT CREAM: Our powerful slimming cream can produce heat quickly to eliminate excess substances in the body and inhibit the absorption of excess nutrients. Suitable for all types of obesity. Burn fat mainly for the waist, abdomen, legs, and other parts. Promote faster burning of subcutaneous fat tissue. Ideal for women and men who want to slim.
2. FAST SLIM EFFECT: Before getting up and sleeping daily, apply the proper amount and massage using circular motions ( for 10~20 minutes ) until absorption. Gradual release mechanism through the night gives you a spectacular firming and smoothing skin surface effect. Helps to shape a nice and attractive body. It's recommended for use during dieting and effectively increases physical activity. You will see an obvious effect.
3.NO SIDE EFFECT: 100% Natural organic content. The texture is light and easy to absorb, promotes metabolism, it helps to tighten and lubricate the muscles, and strengthens muscles. Bring you a healthy face and firm body lines. Rapid and healthy weight loss, safe without any side effects.
4. INCREASE PERSPIRATION: Simply burn extra calories by increasing your body circulation, body temperature, and sweat during your workout. Burning fat and toxins at the same time leaves you healthy and smooth skin.
5. SMOOTH AND TIGHT SKIN: A mild and skin-friendly formula provides skin with more nourishing ingredients, which can quickly be absorbed into the skin. Help promote the breaking down of the fat cells, reducing the appearance of cellulite. Improving the slack skin, making your skin tight and tender.
Instructions:
1. After a bath or shower, apply an appropriate amount over your palm.
2. Massage from the bottom up into the target areas that you want to slim down.
3. Wash it off after 20 minutes.
4. Use a healthy diet and regular exercise for better results.
Specification:
Capacity: 250g
Bottle Size: approx.6.6*8.4cm(D*H)
Package Size: approx.7*7*8.8cm
Weight: about 298g
Type: Slimming Cream
Ingredients: Aqua, Glycerin, Propylene Glycol, Butylene Glycol, etc.
Packing list:
1X Anti Cellulite Hot Cream
Attention:
Avoid eyes and mucus membranes including ears, nose, mouth, genital, urethral, anus, and other sensitive areas. Wash your hands after application. Please use a small amount first on a small area, leave, and continue if you are comfortable to proceed.