Payment & Security
Your payment information is processed securely. We do not store credit card details nor have access to your credit card information.
Description
Model: MS-22P4
3 In 1 Dermabrasion Microdermabrasion Vacuum Blackhead Removal Skin Care Machine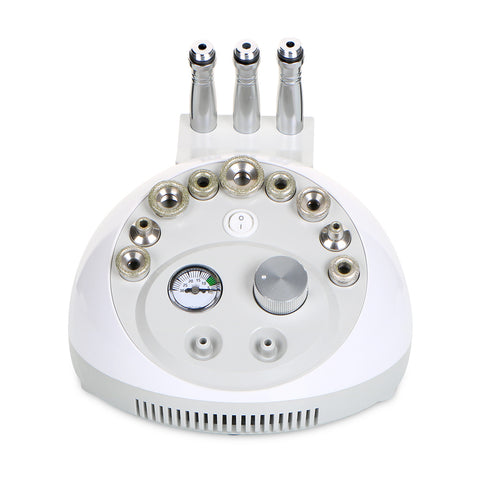 What is Microdermabrasion
It is a creative improvement of the Micro-crystal Dermabrasion. The Diamond Dermabrasion provided a non-surgical skin refinish procedure, by using sterile diamond heads to abrade or rub off the top skin layer, then Vacuuming out the particles along with any dirt and dead skin back up. This procedure removes skin debris, imperfections, blemishes, wrinkles, and unwanted pigmentation on the skin. Moderate usage of Diamond Dermabrasion, accompany by skin products that penetrate through the top skin layer that reach the dermis level, helps to replenish natural nutrients, restore cell activity, and promote skin health. The results after Micro Dermabrasion treatment is usually healthy, glowing, beautiful skin.
Functions
- This 3in1 microdermabrasion machine can remove skin debris, scars, blemishes, wrinkles, and uneven pigmentation of the skin.
- Diamond microdermabrasion machine help skin resurfacing, acne scars removal
- Exfoliating scrub diamond microdermabrasion beauty machine for skin peeling rejuvenation facelift skin tightening
Features
- Non-surgical skin resurfacing procedure with best before and after
- Includes three dermabrasion stainless steel wands, 9 pcs microdermabrasion tips which include different sizes, and coarse tips so that they can be used for different purposes and locations. Also includes 100 cotton filters.
- Vacuum suction helps clean off the dirtiness in the pores and makes the skin become clean and fresh.
- Vacuum spray improves the nutrition absorption for the skin
Package Including:
Dermabrasion main machine 1pc
PVC vacuum hose 1 pc
Red (black)PVC vacuum hose 1pc
Diamond wands 3 pcs
Diamond tips 9 pcs
Cotton filter 1 pack
Glass tube 3 pcs
Spray Bottle 2 pcs
Power Adapter 1 pc