Payment & Security
Your payment information is processed securely. We do not store credit card details nor have access to your credit card information.
Description
MS-54F1
40K Cavitation RF Slimming Machine Cavitation Vacuum Therapy Radio Frequency Skin Tightening Machine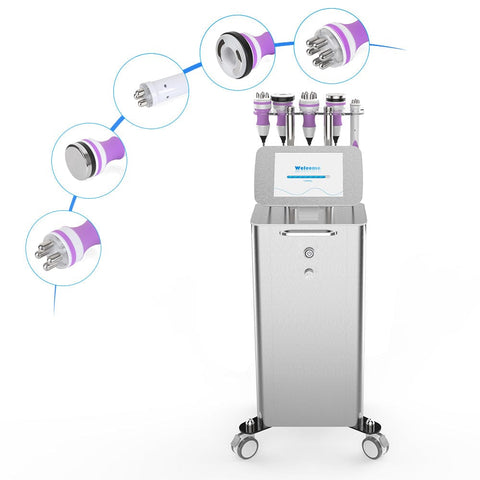 Overview
5 in 1 Ultrasonic cavitation vacuum cellulite removal body for reducing fat and losing weight is developed for household and beauty spa salons. Provides slimming, removal of orange peel tissue and body shaping functions, convenient and affordable.
Benefits of the cavitation ultrasonic vacuum body slimming fat loss machine
The 5 in 1 Ultrasonic cavitation vacuum body slimming fat loss machine is greatly helpful for body slimming and skin tightening. Most clients experience 2-10cm of circumference reduction, after a single session and improved results after each visit. Depending on the condition being treated, the number of sessions needed varies. Following a healthy diet and lifestyle will certainly improve and help maintain high quality results.
Is it possible to lose weight with Cavitation Ultrasonic Vacuum Body Slimming Fat Loss Machine
Because you are reducing fat deposits you may experience some loss in weight but Ultrasound Cavitation Non-Surgical "Liposuction" itself is not a weight loss treatment. It is particularly indicated to reduce adipose fat and cellulite, which will reduce circumference. Diet suggestions will be recommended to follow throughout your treatment program and will enhance the elimination of fat deposits and the loss of weight.
What if I have lost my weight and just need some lifting and tightening?
First of all, if you have lost your desired amount of weight, we applaud you for your success! If you have lost your weight and have saggy skin or cellulite that just won't go away we can definitely help you! At your initial consultation, we will determine the best course of action for your needs. You may benefit from contouring, tightening and lifting using Radio Frequency therapies and may not need Ultrasound Cavitation at all. Our specialists will design a treatment program specific for your personal needs.
Package Included
Multipolar RF Head for Body x 1
40KHz Cavitation Head x 1
Vacuum Biploar RF Head x1
Three polar RF Head for Faceand Eyes' Around x 1
Quadrupole RF Head for Face and Body x1
Power cord x 1