Payment & Security
Your payment information is processed securely. We do not store credit card details nor have access to your credit card information.
Description
Model:SR-040
NEW  AI Facial Testing Hydra Ultrasonic Scrubber Radio Frequency Facial Moisturizing Cold&Hot Hammer Skin Care Machine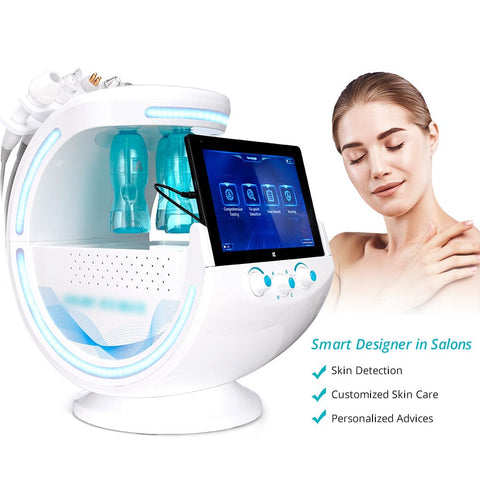 Brief Introduction
It is a 10-megapixel high-definition macro camera combined with tri-spectral imaging technology to collect facial skin details images, through the intelligent diagnosis and analysis of the artificial intelligence core engine, 8-dimensional detailed detection of skin problems, and according to the diagnosis results, personalized beauty care solutions and intelligent recommendation professional Skin care products;

Combined with AI skin test diagnosis results, targeted skin care products and other skin care items, and developed skin detection and management multi-function equipment.
Product Features
1) All-in-one: This product integrates skin detection, customized beauty plan, product push; basic beauty care, epidermal keratin cleansing, deep cleansing, deep hydration repair, anti-aging maintenance, sedative repair and other functions in one, multi-function , The market demand is great.

2) High comfort: The design of the handle conforms to the principles of ergonomic mechanics, the material has a strong skin-friendly feeling, and the body feels comfortable.

3) Functional principle: The core principle of this product is 3 spectrum sampling, AI intelligent skin measurement, AI intelligent product push, and AI beauty plan customization; six nursing functions: "Ultrasonic scrubber", "hydra oxygen cleansing", "hydra oxygen hydrating" , "Ultrasound", "RF", "Cooling therapy".

4) Simple operation: AI intelligent analysis, convenient operation, easy to use, no surgery, no skin breakage, strong safety
Product Parameter
Vacuum range 700mmHg
Output control: touch screen & handle switch
Gold RF: fast response multi-pole (energy 10-level adjustment)
Electrophoresis: 1MHZ (energy 10-level adjustment)
Ultrasonic: 1MHZ (energy 10-level adjustment)
Cooling head: water-cooled & air-cooled (energy 10-level adjustment)
Ultrasonic Scrubber: 25KHZ (energy 10-level adjustment)
Ion spray gun pen: 2000mmHg
Interface: 10.1 inches, computer touch screen
Input voltage: 110-240V 50-60HZ 150AV
Packaging List
Main machine x1
Power cord x1
Hand cable x1 set of 6
Hand tools: Hydradermabrasion tools x1
Ultrasonic scrubber tools x1
Nano atomizing spray handpiece x1
RF handle x1
Cooling Handdle x1
Ultrasonic handle x1
Solution bottle ABC x1
Solution bottle D x1
Sewage bottle x1
Hand tool bracket x1