Payment & Security
Your payment information is processed securely. We do not store credit card details nor have access to your credit card information.
Description
Model: HR-SL808W
808nm Diode Laser Painless Permanent Hair Removal Skin Rejuvenation Spa Machine
Introduction
This professional 808nm diode laser hair removal system utilizes the unique long-pulse laser penetrating the epidermis to the hair follicle site, which can guarantee a comfortable, safe, and effective hair removal treatment procedure.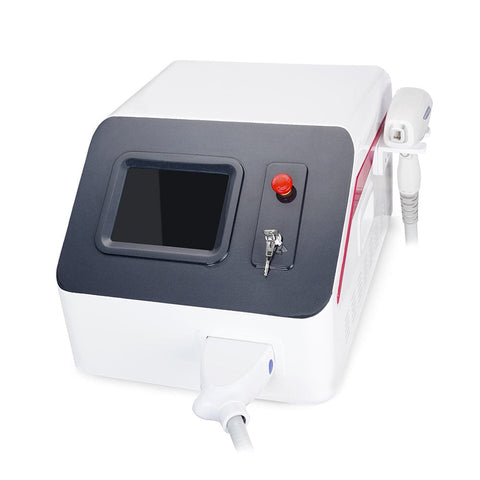 Feature
- Painless and permeate hair removal
- Long service life: the sustainable light 5 million shots.
- High peak power: single bar power up to 100W / bar, the market single bar laser power generally 50W / bar-80W / bar.
- The efficient and stable cooling system. with constant temperature cooling, to ensure that the entire system has 7 * 24 hours of continuous work. Air-cooled + water-cooled way commonly used on the market can only work continuously for 2 hours.
- Use of contact sapphire cooling system, efficient cooling conduction efficiency, make comfortable treatment.
- Intelligent water temperature control system: avoid water temperature is too high, damage the handle.
- The unique shape design and color match make the product more beautiful and fashionable.
Technical Parameters
Laser type: semiconductor laser
Laser wavelength:808nm
Working frequency: 1--10Hz adjustable
Spot size:10×12mm
Laser power:500W
Input power:1600W
Operating language: English
Output mode: pulse output
Screen size: 8-inch true color touchscreen
Shell material: ABS plastic + metal
Cooling system: semiconductor refrigeration + water + air cooling constant temperature cooling
Handle temperature:-10--5℃
Supply voltage: AC220V, AC110V (can be customized)
Package Including
Handle x1
Handle bracket x1
Water funnel x1
Power line x1
Instructions Manual x1