Payment & Security
Your payment information is processed securely. We do not store credit card details nor have access to your credit card information.
Description
Model:MS-1150
Double Chin U-Shape Chin Fat Freezing Anti Cellulite Machine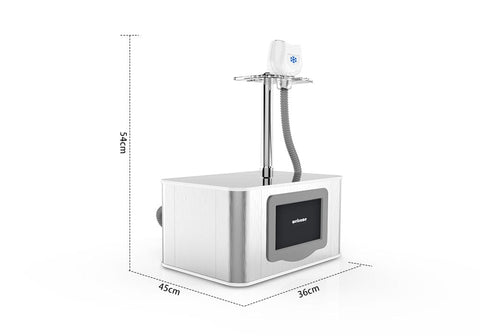 Functions:
Chin handle for Double Chin Slimming
Short time:Shorter period of operation and less operation steps
Fat freeze,more reliable-adopt the latest cooling technique in the world
More advanced than ledsuction,no side effects, good effects, no rebounding phenomenon,woundless
Long effect: One courseoperation will make you feel different, visible effect will be shown after 1-2 course of operation,it is incredible and last for 3-5 years.
Cooling operation beauty equipment,temperature can reach to -10°C-5°C
Fat freezing system
Fat freezing is a non-invasive procedure that gently and effectively removes fat from targeted areas of the body that have not responded to traditional diet and exercise. Patients can benefit from noticeable yet natural-looking results in their problem areas, providing an overall smoother body contour.
Fat freezing is most effective in removing fat from the abdomen, love handles (flanks) and back. The results of the Fat freezing procedure are achieved using the advanced Fat freezing Technology, which cools the targeted tissue to break down the fat cells for easy removal, without any harm to the surrounding tissue. Fat cells have been proven to be more vulnerable to cold than the surrounding tissue. This stimulates a natural fat removal process that continues for several months after the procedure.
Advantages
----Comes with temperature control and water control safety system.
----Cooling operation beauty equipment,temperature can reach to -10°C~5°C, up to 5Kpa ,time to 30min
----More advanced than ledsuction,no side effects, good effects, no rebounding phenomenon,woundless, will not influence the normal working and living,comfortable, woundless during the operation no ruggedness.No bleeding and bruise,Non-anesthetic
----Fat freeze,more reliable-adopt the latest cooling technique in the world. Apply exactly to targeted tissue varying from area to area to achieve high operation efficiency,Low energy output to ensure a comfortable and painless operation course
---Better than RF and ultrasound,simple operation-Updated control software with user-friendly operation interface,Easy operation to ensure learn and use,Dispense with operation preparing period and no convalescence for its safety and wide application range
----Long effect: One course operation will make you feel different, visible effect will be shown after 1-2 course of operation,it is incredible and last for 3-5 years.
----Extensive operation: It could be applied to anyone's sagging skin and aging skin,Suitable for all kinds of skin.
----Short time:Shorter period of operation and less operation steps
Caution
1.The equipment must be operated by professionals
2.Do not use without antifreeze
1.The equipment must be used by professionals
2.Patients using the following medical electrical equipment can not use the equipment.
Implanted cardiac pacemakers or other implanted electronic devices;
Life-sustaining artificial heart-lung machines and other equipment;
Portable ECG measurement equipment;
3.The following patients should be agreed by the professional doctors before using the equipment.
Patients with acute
Malignancy
Patients with Infectious
Pregnant women;
Patients with heart
Patients with fever
Patients are receiving operation or those with abnormal body phenomenon;
4.The following patients using this device should be taken care of.
Infants and young children;
Sensory or physically impaired persons;
Package list
1 x Fat freezing main machine
1 x Chin handle
1 x Handle holder
1 x Filter
1 x Power line