Payment & Security
Your payment information is processed securely. We do not store credit card details nor have access to your credit card information.
Description
Model: WL-KYDB020
3 Zone Far Infrared Lymph Drainage Body Slimming Sauna Blanket Weight Loss Detox Heating Spa Machine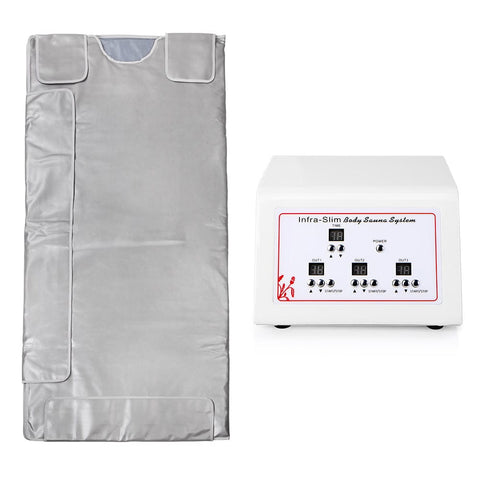 Body slimming and weight loss
 Accelerate the metabolism
 Improves the immune system and stops growth of cancer cells
Enhance cell potential film and to improve and slow down organ aging 
Speeds up metabolism,improve life qualtiy and work efficiency
Working Principle:
Far Infrared rays has the ability of penetration, refraction, radiation and reflection. The human body can absorb FIR because of its deep penetrating ability. When FIR penetrates through skin to the subcutaneous tissues, it transforms from light energy into heat energy. The thermal effect within the deep layers of the tissues causes blood vessels and capillaries to dilate, promoting a better blood circulation, and the producing heat helps to get rid of body toxins and metabolic wastes through sweating.
²Treatment Applications and Effects:
Perspiration detoxification,burning redundant fat for slimming purposes
Relieve rheumatism and cold,unclogging the meridian,eliminating body fatigue
Recovering therapy for Shoulder,hip and waist,back and legs
Cultivate the viscera,promote blood circulation,accelerate metabolism,improve body immunity
5 .Enhance medication and nutrient lead-in and absorption
Product Features:
1.Long and wide cover design,which is suitable for most customers.
2.Velcro design for practical and convenient use.
3.Advanced controller with micro-computer program and digital display.
4.Multi-control temperature adjustment: speedy increase and accurated control in temperature,reduction in electricity consumption.
5.Exclusive heat releases with 9~16μm infrared rays.
6.Three zones Infrared output with independent control in temperature.
Technical parameters:
Rated Voltage: AC230V±10%,50Hz±1Hz or AC110V±10%,60Hz±1Hz(optional)
Rated Power: 300W
Maximum Time: 90 minutes
Maximum Temperature: 80℃
Infrared Release: 9~16μm
Infrared Output: 3 zones
Machine Dimension: 21cm(L)X24cm(W)x13cm(H)
Blanket Dimension: 180cm(L)X160CM(W)
Packing Dimension: 102cm(L)x46cm(W)x14cm(H)
Net.Weight: 8.5KG
Gross.Weight: 9.8KG
Material: Waterp-roof PVC material inside the blanket, Water-proof soft marterial outside the blanket
Packing List:
1 x Controller
1 x Treatment Wrap
1 x Power Wire
2 x Spare Fuse
1 x English Manual
Persons who are forbidden
1.The person who has skin diseases,such as scald and reddening.
2.The person with heart defibrillators or other implantable devices.
3.The person who has heart disease.
4.The person who has skeletal fragility or damage in his bone,especially the bone of back.
5.The person who do not fell well or is being treated.
6.The person who just has a surgery.
7.The person who has osteoporosis.
8.The person whose has high blood pressure .
9.The pregnant women.
10.The person who has a headache.