Payment & Security
Your payment information is processed securely. We do not store credit card details nor have access to your credit card information.
Description
Model:MS-22R2
Radio Frequency 

RF Skin tightening  Beauty Machine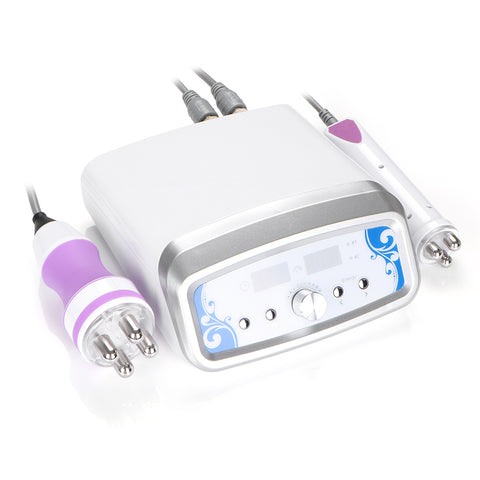 Principle
Radiofrequency is also called diathermy(deep heating) which is the system to provide the treatment by generating the heat from inside the human body. Wrinkles and loose skin can take their toll on your looks. Even healthy and active people eventually show signs of aging on their faces. Since it's the most important visual feature of your body—the one that most people will recognize you by—it's important to keep your face fresh and youthful. More and more people have tried facelifts over the years to combat wrinkles and skin imperfections. Though often successful, traditional facelifts require minor surgery and prolonged recovery periods. There's increasing demand for non-surgical techniques to refresh facial appearances. That's where radio frequency face lifts come into play.
Parts
1. Quadrupole RF Handle with Photon for face
Facial RF head capacitive coupling electrode is used for transmitting radio-wave energy and generating an electric field for entering into subcutaneous tissue through the skin surface. In the high frequency of 450 kHz, this electric field changes its polarity 450,000 times per second. so skin is renewed. Use on Face, thigh, etc.
2. 3-Polar RF Handle with Photon for eye around
A Three Pole facial lifting is a non-surgical, non-invasive cosmetic technique that safely and effectively improves the health and appearance of the skin. It can removal wrinkle and tighten skin, whitens and tender skin, tightens and whiten skin, use on the eye around, arm, etc
Advantage
1 Effect by short term treatment
-Increase blood circulation and metabolism
-Improve absorption of cream and lotion
-Decrease acne
2 Effect by long term treatment
-tighten skin and decrease fine wrinkles
-Stimulate collagen cells and increase skin flexibility
-Tighten large pores
-Reshape the outline of the face
Specifics
Power supply Input:100V-240V
Power:100W
Quadrupole RF Handle with Photon
Freqeuncy:1MHz
Power:30W
3-Polar RF Handle with Photon
Freqeuncy:1MHz
Power:10W
Dimensions: 21X19X8cm
net weight:1.5KG
Gross weight: 1.95KG
Input Power :100V-240V
Package Included
1 x Main Machine
1 x Three polar Probe
1x Quadrupole Probe
1 x Power supply cord