Payment & Security
Your payment information is processed securely. We do not store credit card details nor have access to your credit card information.
Description
Model: SM-7201N
Fat Freezing Cooling Suction Fat Removal Slimming Weight Loss Beauty Machine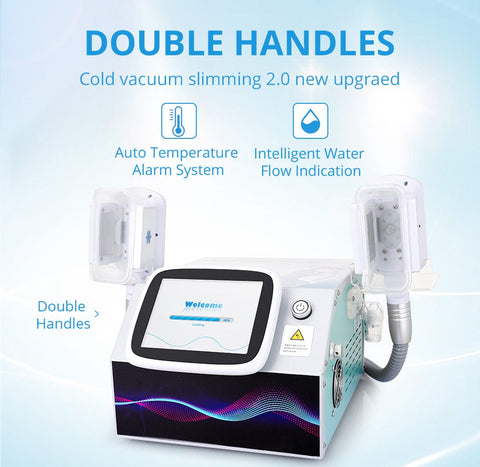 Functions:
Fat Loss
-10°C to 15°C
Body Shaping
Cooling vacuum
What Are The Advantages?
1. Equipped with safe temperature control and water control system
2. Quickly get rid of fat, make the skin firmer,
3. Adopt the more efficient world's latest cooling technology, by cooling the fat to solidify the fat, so as to remove the fat more quickly and achieve the effect of weight loss
What is the Cool Technology Theory?
No surgery or incisions make it a fairly popular fat-reduction treatment amongst many others.
The machine is a non-surgical, non-invasive system that sculpts your body by helping to destroy and dissolve fat cells. Simply apply the machine over your problem areas (waist, thighs, buttocks, tummy, love handles, muffin tops, arms, etc) and the cooling process will decrease the temperature of your fat cells to help naturally eliminate them from your body. The sophisticated design targets fat cells only to avoid damaging any surrounding tissues, and it is engineered to cause minimal discomfort.
What Are Technical Parameters?
Voltage AC110V/220V 50-60Hz
Vacuum 650mmHg
Pump flow rate 60L/min
Vacuum pressure 0-100Kpa
Freezing temperature: -10℃ to 15℃,
Accessories List
1. Main machine 1pcs
2. Body Vacuum Cooling handle 2pcs
3. Water Funnel 1pcs 
4. Power cord wire 1pcs 
5. fuse 2pcs
6. filters 2pcs
What are the Things You Should Pay Attention To?
1. For safety, it can be used only under professional operation
2. Before the operation, antifreeze must be applied
3. Patients who use the following medical electrical equipment cannot use the equipment. Implantable cardiac pacemakers or other implantable electronic devices; Life-sustaining artificial heart-lung machine and other equipment; Portable ECG measuring equipment;
4. The following patients should obtain the consent of a professional doctor before using this equipment. Acute patients with Malignant tumors Infectious patients Pregnant women Heart patients Fever patients Patients who are undergoing surgery or have physical abnormalities;
5. When using the machine, the following patients should pay attention. Infants and young children People with impaired organs or bodies;