Payment & Security
Your payment information is processed securely. We do not store credit card details nor have access to your credit card information.
Description
Model: MS-22R3
 New Arrival 7 Colors Photon Led Micro Current Beauty Device Face Lifting Comforting The Skin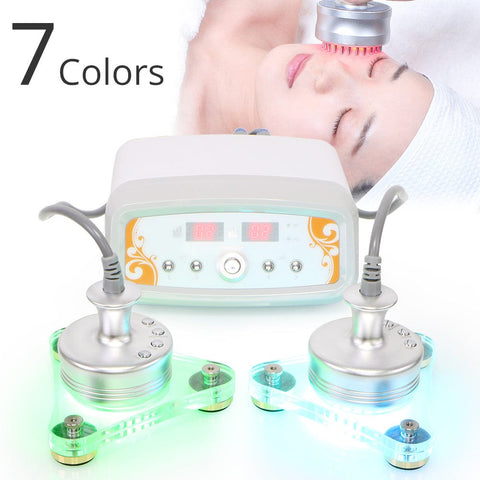 Principle
The Photon Micro current Beauty Device, designed for facial beautification, uses natural light waves, which are transmitted by LED into the skin. The light activates photoreceptors in skin cells, producing energy for absorption by skin components, to beautify your complexion.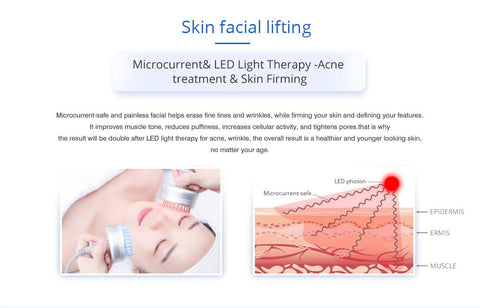 Parts
Photons:
Red: The 650nm red light is for wakening and activating the skin
Blue: The 462nm blue light is for calming and diminishing inflammation.
Green: The 527nm green light is for comforting the skin.
Purple: The 600nm purple light is for toxin elimination.
Orange: The 610nm light is for Balancing and recomposing.
Turquoise: The 470nm turquoise light is for relaxation.
Yellow: The 590nm yellow light is for tightening and oxygen supply

Microcurrent:
By outputting simulated human bio-current, it can go through the skin into the muscle cell, stipulating energy ATP contained inside the cell, and enabling the cell to regain normal operation and function. The unit is an application of the latest technology with a preset computer program that can help for better shaping for lineament, facial sharpening, double layers chin, wrinkle, crow's-feet, pouches, black eye, etc. boosting up facial blood circulation and metastasis, reducing facial splash and pore constriction. BIO will tighten and refine the facial skin in a sanguine condition, which has a proofing effect to loosen the skin, reaching the purpose of beauty enhancement.
Advantage
1. Non-invasive skin care, safe
2. Small size, easy to carry
3. More convenient operation, you can use both functions at the same time
Package Including
1x Main Machine
2x Photon Microcurrent probe
2x Holder
2x fuse wire
1x Power cord