Payment & Security
Your payment information is processed securely. We do not store credit card details nor have access to your credit card information.
Description
Model: AS163
Water Hydro Dermabrasion Deep Cleansing Dermabrasion Facial Machine Hydra 6in1  Facial Water Peeling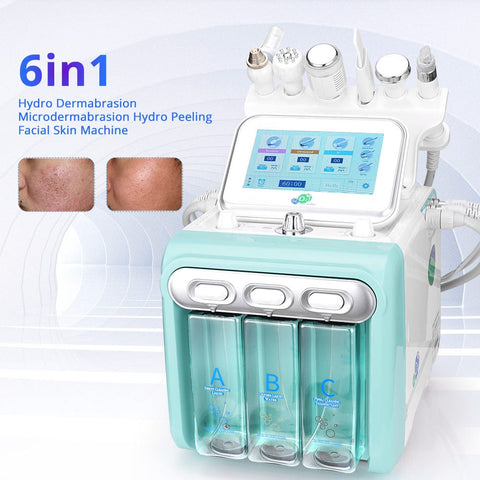 Introduction:
This 6 in 1 hydra facial oxygen microdermabrasion with the facial cleansing machine is equipped with 6 skincare probes: hydra dermabrasion pen, ultrasonic skin scrubber, ultrasonic facial handle, RF skin lifting probe, oxygen spray jet, and cold hammer.
It is your skincare machine and a must-have product for beauty salons and spas to help you deeply care for your skin.
Improve skin texture, beauty, start here!

6 in 1 Hydra Facial Oxygen Dermabrasion Can Do?
- Remove Cuticle of Epidermis, Refreshing Skin
- Improve Cell Organization and Eliminate Defects
- Promote Regeneration of Collagen and Elasticity
- Improve the Mechanism, Enhance Elasticity
- Reshape & Restore Healthy Skin
Features of 6 IN 1 Hydra Facial Machine:
- Multifunction Skin Rejuvenation System
One machine can finish the skin care treatment easily

- Safe and painless
A small bubble skin management instrument uses vacuum negative pressure technology combined with specific solutions, low stimulation and skin grinding.

- Rotary cleansing suction head
Innovatively added, to get better skin cleaning effect than traditional small bubble beauty machine, 3 different handles for solving a variety of skin problems, make your skin tender and beautiful

- Scope of Use
Whitening, deep cleansing of the skin, firm skin, shrink pores, improve a double chin.