Payment & Security
Your payment information is processed securely. We do not store credit card details nor have access to your credit card information.
Description
Model: LS-78D1MAX
New Design Ultrasonic 40K Cavitation RF Body Slimming Facial Lifting Spa Machine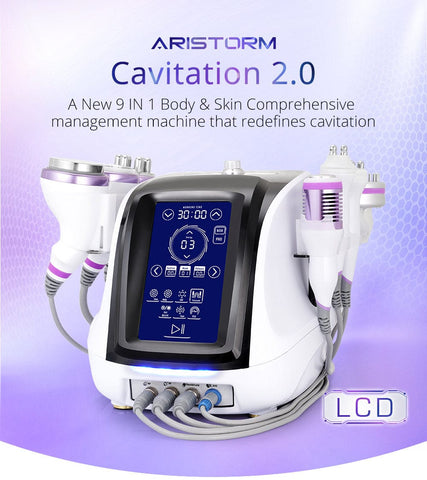 Functions:
1. Cavitation 40K Fat Burning
2. Radio Frequency Skin Lifting
3. Beauty Machine Body Shaping
4. RF Equipment Wrinkle Removal
5. 9 in 1 Machine Skin Tightening
What Is Aristorm Cavitation 2.0 Body Slimming Facial Lifting Machine?
The newly designed cavitation radio frequency hot and cold hammer body face-lifting machine is one of myChway's cavitation radio frequency hoists. It has a body six-pole radio frequency handle, a 40K cavitation 2.0 handle, a body vacuum six-pole radio frequency handle, a 2-pole radio frequency handle, a 6-pole face radio frequency handle, a micro-current & photon handle, and a cold hammer. It mainly includes slimming, fat reduction, anti-wrinkle, firming, Face-lifting, and other functions. The principle is different from liposuction. Ultrasound fat cavitation is safe, painless, and efficient. It can achieve good weight loss and body shaping without any surgical operation. On the contrary, using high-frequency sound waves can help you lose a few inches without causing any harm to your body. The results are obvious, and you can even see a little difference after the first treatment. Depending on the physical condition of different people, the course of treatment is different, but it usually takes 6 to 12 treatments to achieve the goal.
Why Choose The Cavitation 2.0 Machine?
The newly designed cavitation radio frequency hot and cold hammer body slimming machine is a multi-functional professional machine, which can be used on almost any part of your body. Common treatment areas include the abdomen, arms, thighs, face, waist, or back. At Medarts weight loss experts, we can also deal with smaller areas, such as your chin or upper arms. Through fat cavitation therapy, low-intensity ultrasound is used to break down fat cells into liquid while keeping the surrounding tissues intact. Once the fat cells are liquefied, they can be eliminated through the natural system. During and after the operation, you will not feel any discomfort, it is just a safe way to lose weight.
Does the cavitation machine work?
Does Ultrasonic Cavitation Work? Yes, ultrasound fat cavitation provides real, measurable results. You'll be able to see how much circumference you've lost using a tape measure — or by simply looking in the mirror. However, keep in mind that it only works in certain areas, and you won't see overnight results.
Can I shower after Cavitation?
Do not have a hot shower, bath, or sauna right after the Ultrasound treatment. We recommend a low-calorie diet with protein in each meal and drinking at least a glass of warm water (not carbonated, sparkling water, pop, or coffee) before and after the session.
Specification:
Power supply Input:100V-240V
Power:190W

40K Unoisetion Cavitation 2.0 Handle for Body
Freqeuncy:1MHz
Power:50W

Vacuum&6-polar RF Handle with Photon
Freqeuncy:1MHz
Power:50W
Vacuum: <-80kPa
Pressure: >250kPa
Airflow: >10L/minute
Noise level: <70dB (30cm away)

6-pole RF Handle with Photon for body
Freqeuncy:1MHz
Power:30W

6-Polar RF Handle with Photon for face
Freqeuncy:1MHz
Power:10W


Cold probe for body and face
Temperature:0~5 degree centigrade
 Package List:
1. Main Machine  1PCS
2. Sextupolar RF Handle with Photon for Body   1PCS
3.40K Unoisetion Cavitation 2.0 Handle   1PCS
4. Vacuum and six polar RF Handle with Photon     1PCS
5.6-Polar RF Handle with Photon for Face and    1 PCS
6. Two polar rf handle for Eyes Around     1 PCS
7.Microcurrent+Photon Handle    1PCS
8. Cold Hammer  1PCS
9. Power cord  1PCS