Payment & Security
Your payment information is processed securely. We do not store credit card details nor have access to your credit card information.
Description
Model: MS-22S5
5 in 1 Unoisetion Ultrasonic Cavitation Body Contouring Skin Tightening Machine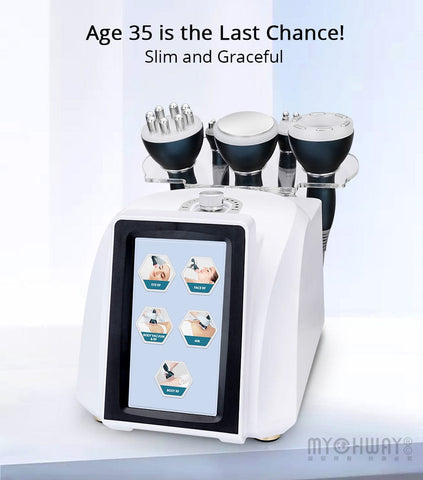 Overview
The 5 in 1 40k ultrasonic cavitation RF cellulite slimming machine is the new design multifunctional beauty machine mainly for body slimming and skin tightening. It has 40 ultrasound 40KHz cavitation RF head, 12 polar RF head for the body, six polar RF vacuum head for the body, eight polar RF for the body, six polar RF handle for the face and body, and bipolar RF handle for the face and eye around. With this machine,  you can do the body and face treatment at home when you have time. It is very easy-to-use, with which you can do the treatment yourself or with the help of a friend or family member.

Benefits of the ultrasonic cavitation RF cellulite slimming machine
The 40k ultrasound cavitation machine is one of the most requested treatments in aesthetic clinics in recent years. Especially to treat the localized fat which is more difficult to eliminate with diet and exercise is a technique that offers excellent results. The skin gains smoothness at the same time that cellulite is completely eliminated, stretching it and giving it a younger and healthier appearance. During and after the procedure, you shouldn't experience any discomfort. At most, you may feel a gentle warming sensation as the ultrasound wand works its way across your skin.
How Long Is Each Treatment?
20-30 minutes for each part of the body is recommended, But it is not the same treatment time, the treatment time depending on the treatment, the area to be covered, and the amount of work required for non-surgical inch loss and body contour treatment.
How OftenTreatment Is Recommended?
We recommend at least 3 days between treatments in the same area to give enough time for the skin to metabolize the fat.
Remember to drink more water before and after the treatment to help the liquid fat out of the body.
Packing List
1 x 40KHz Unoisetion Cavitation Handle
1 x Vacuum sixpolar RF Handle
1 x Eightpolar RF Handle for the body
1 x Sixpole RF Handle for the body and face
1 x Bipolar RF Handle for the face and body
1 x Power cord Power Supply Cord( Both 110v and 220v voltage (frequency: 50/60Hz) version are available. Also we stock the USA, UK, AU, EU plug to suit for the country all over the world.)