Payment & Security
Your payment information is processed securely. We do not store credit card details nor have access to your credit card information.
Description
MS-66B1
6in1 Cold Hammer Ultrasonic Cavitation 40K RF Vacuum Cellulite Removal Body Slimming Machine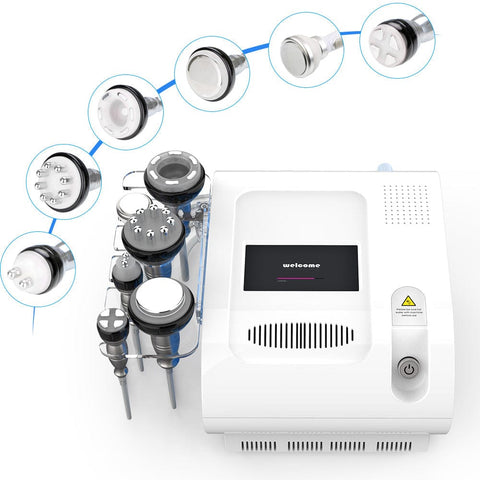 Overview
myChway 6 IN 1 ultrasonic unoisection cavitation 2.0 weight loss cellulite removal machine uses a strong 40k ultrasound wave and 3mhz radio frequency to achieve the better result of weight loss and body slimming, combine with the cold hammer to get face skin rejuvenation.
The feature of 6 IN 1 ultrasonic cavitation machine 
- Safety: Cavitation 2.0 + 3D SMART RF technology makes the machine safer for everyone
- Comfort: No tinnitus, no electric shock, no pulse discharge, slimming care is very comfortable
- Smart: Smart programs will enable therapists and patients to enjoy the journey of body shaping, very easy
- Effective: Clinical data show that 98% of patients have the best visible effect after treatment
- Long service life: Gigital calibration makes the probe life three times that of ordinary cavitation meters
What is the 6 IN 1 ultrasonic cavitation machine ?
- The new cavitation, reduces the unbearable ring or noise sound in ears, It is called cavitation 2.0 unoisetion technology, a more comfortable experience for weight loss treatment.
- RF effectively avoids the discomfort caused by the uniform distribution of radio frequency. When treating a large area in the body, the energy output of pulse-free discharge is more stable and safer, while losing weight, it also tightens the skin.
- Vacuum RF uses the suction and release mode, to get the body slimming and massage at the same time.
Will you lose weight due to the 6 IN 1 ultrasonic cavitation machine?
Yes. It aims to reshape and shape the human body and remove local stubborn fat or fat. Ultrasound cavitation therapy combined with a low-fat, low-carbohydrate diet and regular exercise works best. These methods can help you lose weight.
Specifics
Power supply Input:100V-240V
Power:190W

40K Unoisetion Cavitation 2.0 Handle
Frequency:40KHz
Power:25W

Sextupole Smart 3D RF Handlepiece
Freqeuncy:1MHz
Power:50W

Sextupole Vacuum & Smart 3D RF Handlepiece
Freqeuncy:1MHz
Vacuum: <-80kPa
Pressure: >250kPa
Airflow: >10L/minute
Noise level: <70dB (30cm away)

Quadrupolar Smart 3D RF Handlepiece
Freqeuncy:1MHz
Power:20W

Bipolar Smart 3D RF Handlepiece
Freqeuncy:1MHz
Power:10W
Packaged
1 x Main Machine
1 x Unoisetion Probe
1 x Sextupolar Vacuum 3D SMART Probe RF for Body Slimming
1 x Octupole 3D SMART RF Probe for Body Sculpture
1 x Quadrupole 3D SMART RF Probe for Arm/face/small area of the body
1 x Bipolar 3D SMART RF Probe for face and eyes
1 x Cold Hammer
1 x Holder
1 x Power Supply Cord ( Both 110v and 220v voltage (frequency: 50/60Hz) versions are available. Also we stock the USA, UK, AU, and EU plug to suit the country all over the world.)